Breakdown of My Installation for Forcefield (or Sleep Doesn't Exist Here)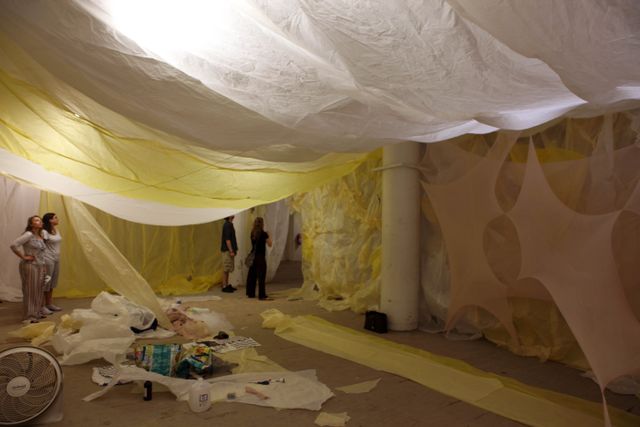 Here I grace you with some photos the day we broke-down my installation that was in the
Forcefield
exhibition at
Maken Studios
in the former
Jomar
warehouses in North Philadelphia. If you are just coming to this blog for the first time and are unaware of why and what happened you may look at the 2nd blog post below. And in case you were wondering, any word with a line underneath is indeed a link for your further perusal.
Simply put, the city of Philadelphia came in and shut down the exhibition before it was opened to the public, and before I and many other artists were even finished with installing their works. Here I will leave you with photos of the de-install and the grand hope that I will be able to install this work again in the near future, possibly many more times to come.

The truly wonderful team of Forcefield is as we speak in the process of trying to obtain a new location for the 45 large scale installations.
Tim Eads
and
Joe Bartrum
are attempting to bring something to Philly that we have needed for a long LONG time. When you do something for the first time it doesn't always go smoothly. But I am absolutely thankful to these guys and their team for what they're trying to accomplish!!!
If you know of a great location please don't hesitate to reach out.
We would all love you very very much!
If you look in the middle of the floor you see some paper and stuff, that's where there I would sit and lay to break for moments throughout the install. My feet and legs were in such excruciating pain that this became my pseudo living room to get off my feet to then get back to work.

Basically the ENTIRE install required me to be standing or getting up and down a ladder repetitively. This might sound horrible, but I wish I could throw the pain I was going through into your body for just a moment so you could feel what I felt, just a moment though. I hadn't slept the last two days of install, I did close my eyes however for thirty minutes. And brilliantly I hadn't taken off my damn shoes till I couldn't take it any more into the 2nd day and thus put plastic bags on my feet to protect my feet from NAILS and such. I know, I know a plastic bag wasnt going to do much but I had no other shoes. I had to live rugged to survive. I lived off fermented cider and tea. No bed, no bath tub. It was me, my art and a deadline.

I love creating and want to always make something beautiful, sad, touching, adventurous, and eerie... You don't get these opportunities often, Or at least I don't, so in order to see your dream manifest you have to build it. And you rarely get a say in the amount of time you can build it. And regardless, I was and still am so so beyond belief thankful for this opporunity.

You know I never told not one soul but during orientation I literaly teared up. Looking at all the different extremely talented artists I was so graceously given the opportunity to have my work exhibited in the same space. My eyes just literally welled up with water with absolute joy and awe that "I" was there too.

I was actually physically a part of this and it was no dream.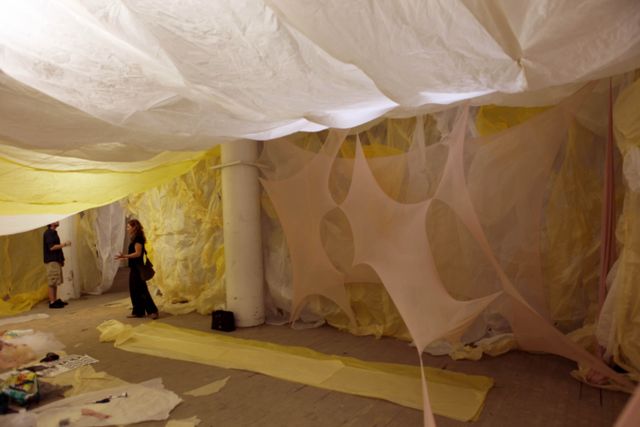 Here we see me laying down the plan for deconstruction. It was indeed very hard to destroy my installation, especially since I wasn't even able to complete it. I must say to you though it's always hard to take down your work, besides the fact you just really don't want to do it after all the work you've just done in building it. It's like a break up that you couldn't or didn;t want to predict or accept, There is the good in a fleeting mystical way. For example the beauty of the destruction in your own art. brings to attention things you would have never see until destroying it. Simply put it's beautiful, sad and a death of your heart. I keep bringing myself back here over and over again.

I just might be a masochist,..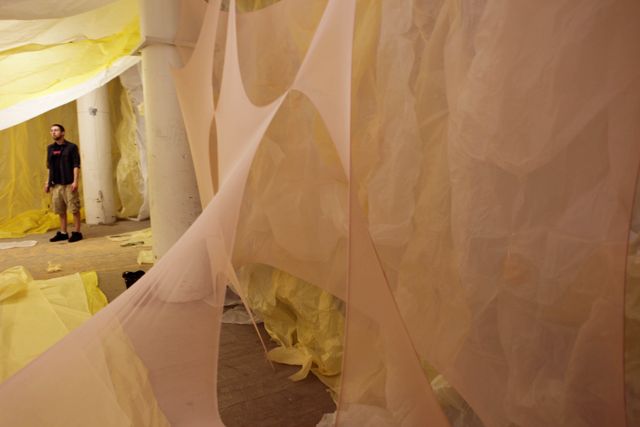 Here Andy, my sister's husband, is saying, "This was a great vacation..." (wink)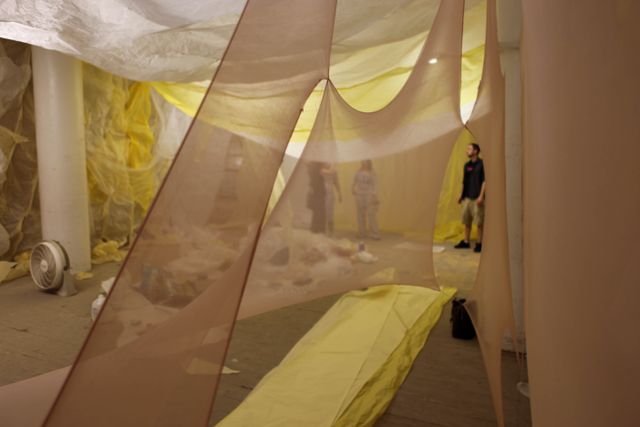 Oh, yes and I forgot to mention it was pretty damn hot in there. I couldn't imagine what the artists were going through on the upper floors! I was thankfully on the first and it was still hot. I thought I wasn't gonna make it a few times, but I've been stretching my body to the LIMITS for a while now and I'm pretty well versed in the suffering. You probably don't even want to know the stories. So I would say that I have a good understanding of when I need to sit and mentally talk myself through what I need to do for my safety, progress and sanity. The fan you see and a little one I stole from artist Tyler Kline, (it was at night when he was not installing). I would position them on me in attempt to cool myself off and keep my body temperature down so I wouldn't faint after being up for 2 days straight.

You have to play it cool, man.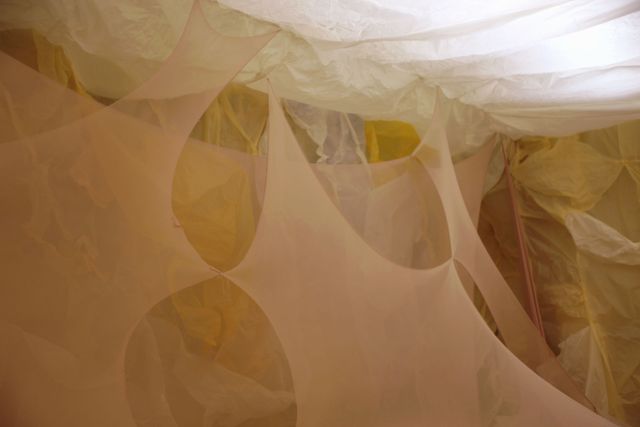 Try to imagine a whole interactive extravaganze taking place here. Wait, you can't I havent told you yet what I was planning on doing. (wink)

I hope one and many more days you will be able to experience it on your own.

Truly I do
.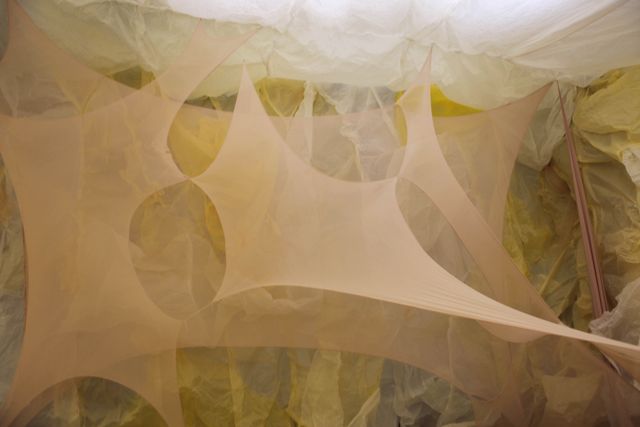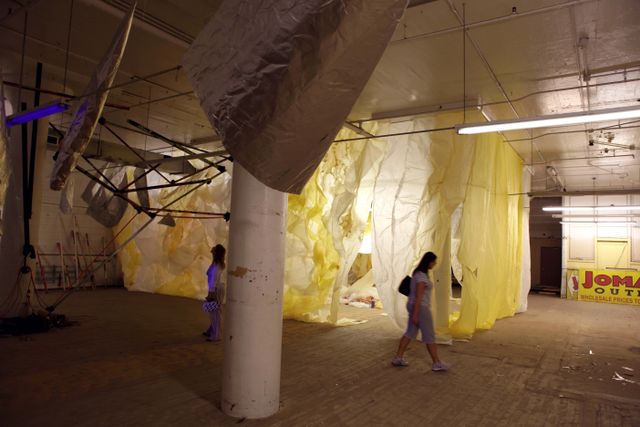 My Mother in awe of artist and friend
Tyler Kline
' s beautiful piece. My sister trying to escape. (wink)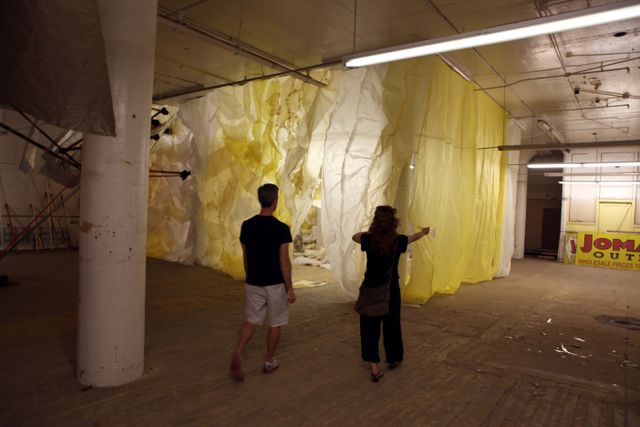 Me attelpting to communicate with other human beings. (wink) I look like a bag lady I know. Hey I made that bag in 2009. I love it. I made it actually as my special I was accepted into grab school fancy leather school/ purse bag.

It was a gift to me.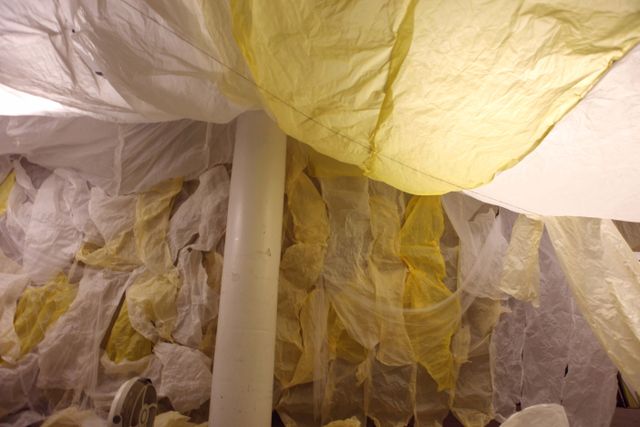 Remember this wasn't finished. I did honestly have a long way to go even the day before the opening of the show but I was going to try my damnedest! It would have been beautiful, but things happen sometimes for a very good reason.

I could explain everything I had intended to create but maybe now is not the time besides I probably communicate better through my art.

You know, that is my first language.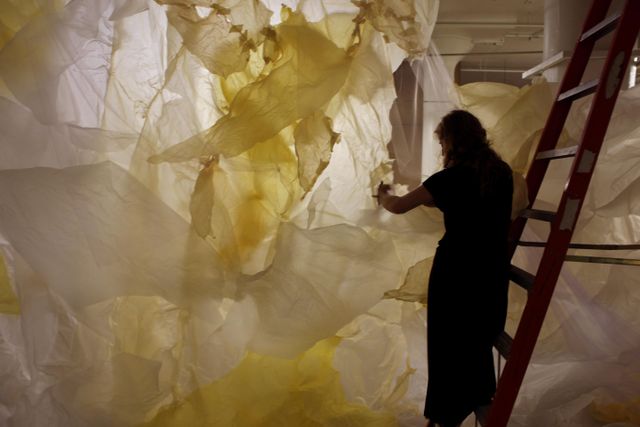 Here I am ripping into the piece. I must say
Louise O' Rourke
and
Maken Studios
have been absolutely INCREDIBLE for allowing me to keep my many mounds of paper there.
Really, TRULY!!! My studio is in my home and to crumple the paper tight wouldn't be the end, but let's say it wouldn't be good.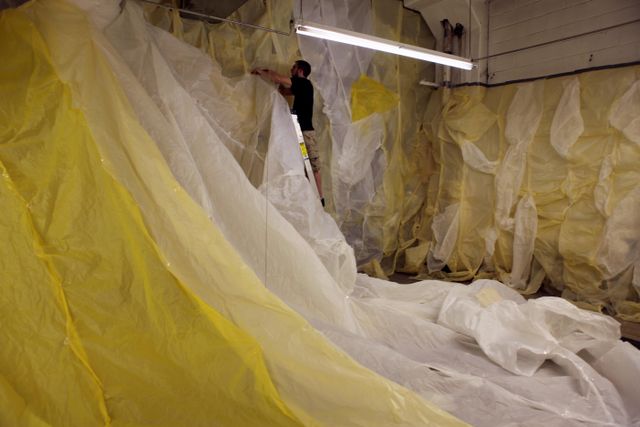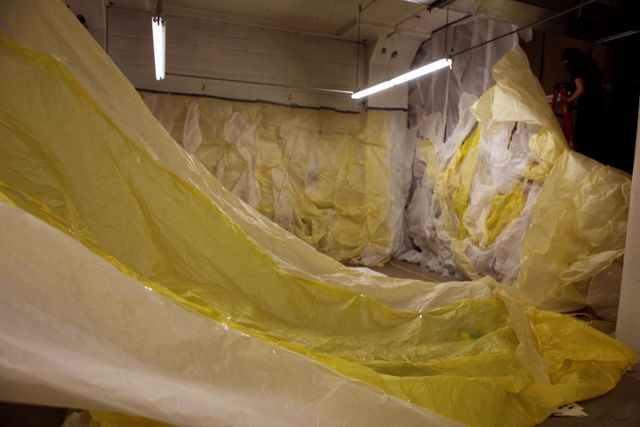 Did I mention I did not drink not one little drop of coffee during install?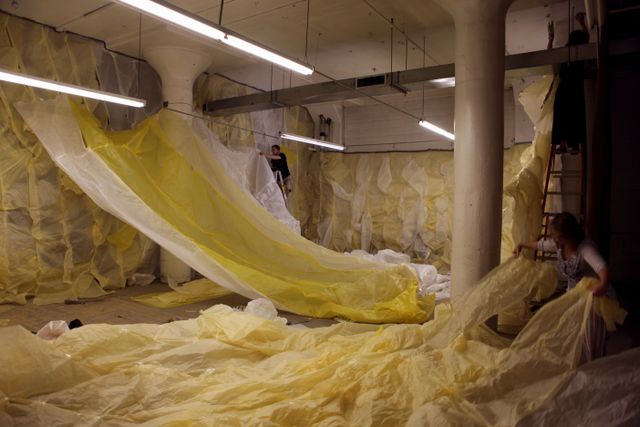 That's a lot of hours of work right there.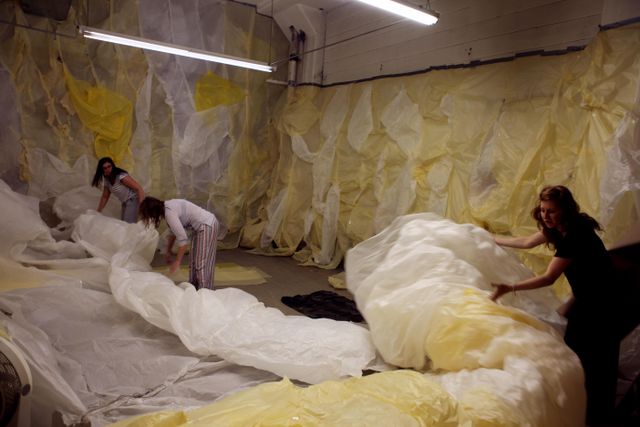 MY POOR MOM AND SISTER!!!

Joke, Joke really I do kid about many things, at times and I'm just candid but for those of you who have never met me it may be hard to pick up on. I guess you'll just have to figure out which one at what moment is sarcasm and truth.

(wink)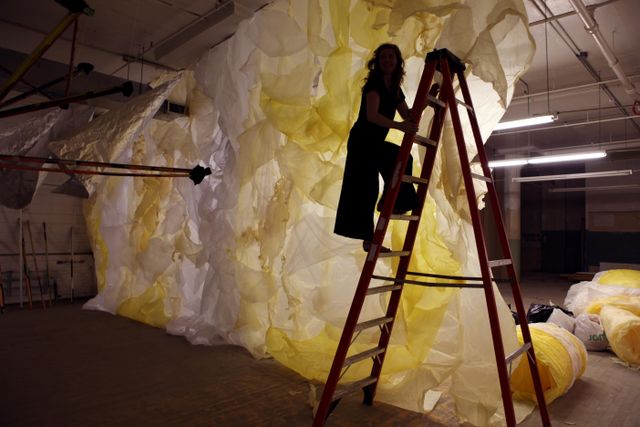 The pain I was inflicting on myself from going up, down and standing on the ladders you don't want to feel, especilly after I had to remove my shoes due to the overwhelming pain. The only things I had between me and a dirty warehouse floor were the plastic bags I taped on my feet. I also thought I had given myself athletes foot because I couldn't remove my shoes for x-hours because there was no time to go home. Home doesn't exist any more at that point. So I stood in sweaty plastic bags with incredibly ITCY feet on tiny metal slits which were the ladder steps cutting into my raw feet FUCK, it was fucking fucking awful.

Excuse my french.

Not to mention moving a big, very tall and sometimes very very heavy ladder by myself.

I think my arms my have looked a little more toned after that week.

Because of the intense pain I started putting little rags I had brought with me from home and some of the paper for install on the steps to help cushion the steps. Not much but every little bit that helped aleve the pain I was experiencing in my feet I was truly grateful.

I did however end up ripping off the damn plastic bags due to the intense itching sensation. I had taped the plastic around my feet in an attempt to keep them clean from the dust on the warehouse floor for when I would put my shoes and socks back on.

Fail.

At the time I thought it was a brilliant idea...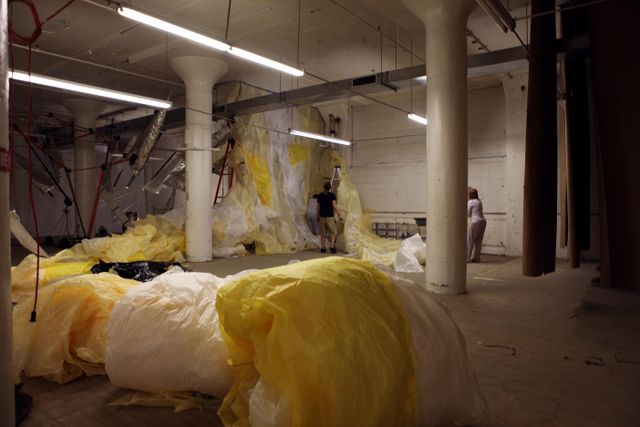 After much reflection I think I should have never slept. Ahha! That's where I went wrong! I went home and slept a bit on Monday and Tuesday. Dammit.

But really there isn't enough time in the day for me to sleep. I've come to this realization. This is why artists are considered crazy. With everything thing else you're responsible for in life, then top it off with attempting to live your life creating, there is no time for sleep. And then we go crazy and die.

The End.

(wink)

Till we meet again!

All photos taken by Riley