Exhibition @GirlSeesArt presents #UncommonBeauty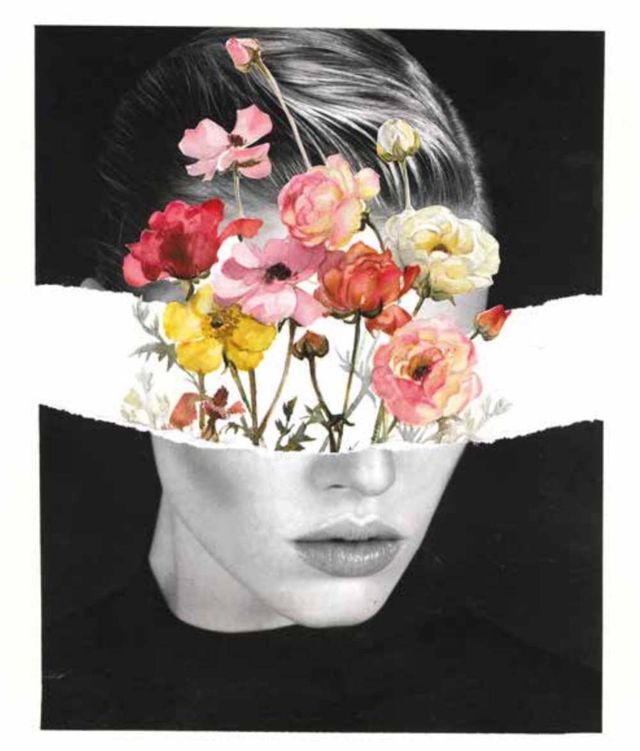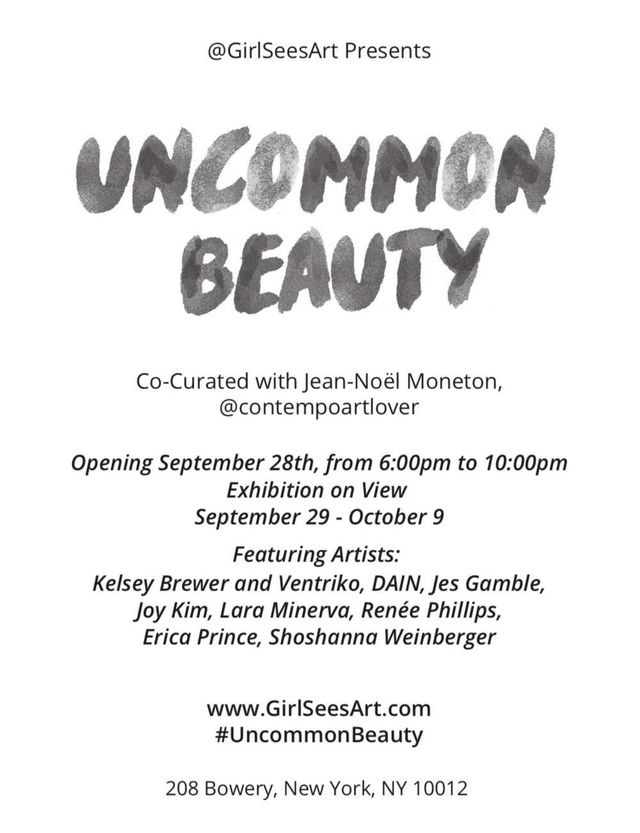 Press Release:

@GIRLSEESART PRESENTS PROVOCATIVE GROUP SHOW UNCOMMON BEAUTY IN CURATORIAL DEBUT
208 Bowery,
New York 10012
September 28 - October 9, 2017
Opening Reception September 28, 6 10PM
Anonymous art blogger and curator
@GirlSeesArt
and co-curator Jean-Noel Moneton present UNCOMMON BEAUTY, a contemporary group show that challenges traditional notions of beauty, and finds it instead in the unconventional, the strange, and the exceptional. Beauty is subjective. For each individual, notions of beauty are shaped not only by their culture and society, but also by their experiences and personalities. In Uncommon Beauty, nine contemporary artists explore their subjective beauty ideals through film, collage, portraiture, painting, photography, sculpture, street art, textile design and installation art. Within a primarily female roster, the participants represent four continents, a wide array of cultural viewpoints, and range from emerging to well-established.
Participating Artists
Social media, with its ability to connect the world in new ways, offers an outlet for an increasingly diverse array of voices to be heard by creating international platforms for those who previously had none. @GirlSeesArt uses her contemporary art-centric Instagram account as an effective resource to create opportunities for artists and, therein, exemplify social medias sway. In fact, two of the shows artists, neither of whom are NY-based, were identified by the curators through Instagram. The two-week pop-up show will also feature special events and programming designed to engage the public and educate a wide audience about the artists, their work, and the overarching theme of uncommon beauty. These include meditation and yoga sessions, artist talks,
Transformational Makeovers
and a performance event in which artist Ventiko literally devours a bust of a man made entirely of chocolate. The opening nights first 100 guests will receive a signed print of Lara Minervas Bloom collage, pictured above.
The full programming schedule can be found on @GirlSeesArts website:
http://www.girlseesart.com/uncommon-beauty/
For additional information and images, visit
www.girlseesart.com
or contact GirlSeesArt at GirlSeesArt@gmail.com or Jean Noel Moneton at jean-noel@msn.com.
Some images of my artworks and myself during the opening.